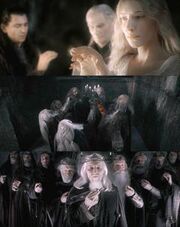 ''Three Rings for the Elven-kings under the sky,
Seven for the Dwarf-lords in their halls of stone,
Nine for Mortal Men doomed to die,
One for the Dark Lord on his dark throne
In the Land of Mordor where the Shadows lie.
One Ring to rule them all, One Ring to find them,
One Ring to bring them all and in the darkness bind them
In the Land of Mordor where the Shadows lie."
--- J.R.R. Tolkien's epigraph to The Lord of The Rings.
The Rings of Power were the masterwork of the elven-smiths of Eregion headed by Celebrimbor, who was descended from Fëanor. The impetus for their creation came from Sauron, who could at that time still assume an appearance fair enough to deceive the Elves. A total of nineteen Rings of Power were forged by the Elves, sixteen of which Sauron had a direct hand in creating. The greatest three Rings Celebrimbor crafted alone. Many other lesser rings were made, described in the The Silmarillion and by Gandalf, though they were generally considered as having been mere essays in the craft: practice, as it were, for the smiths. Sauron, however, planned to use the Rings to dominate the remaining Elves of Middle-earth. In accordance with this, he secretly forged the One Ring in the fires of Orodruin, seeking to bring all the rings and their wearers under his sway.
Ad blocker interference detected!
Wikia is a free-to-use site that makes money from advertising. We have a modified experience for viewers using ad blockers

Wikia is not accessible if you've made further modifications. Remove the custom ad blocker rule(s) and the page will load as expected.