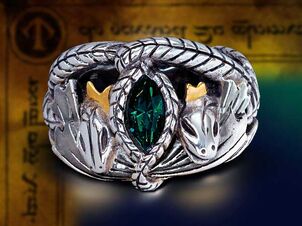 " There King Finrod Felagund, hastening from the south, was cut off from his people and surrounded with small company in the Fen of Serech; and he would have been slain or taken, but Barahir came up with the bravest of his men and rescued him, and made a wall of spears about him; and they cut their way out of the battle with great loss. Thus Felagund escaped, and returned to his deep fortress of Nargothrond; but he swore an oath of abiding friendship and aid en every need to Barahir and all his kin, and in token of his vow he gave to Barahir his ring."
—The Silmarillion, Of the Ruin of Beleriand and the Fall of Fingolfin
Barahir's hand and ring were taken by the orcs that killed him, but were retrieved by his son Beren when he avenged his father. Beren laid the hand to rest with his father's remains, but kept and wore the ring.
Beren used the ring to prove his lineage to Thingol when he first entered Doriath and again when he sought Finrod's help in the quest for the Silmaril.
The ring was passed from Beren in direct line to Dior, then his daughter Elwing and her son Elros, who brought it to Númenor during the Second Age. It was an heirloom of the kings of Númenor until Tar-Elendil gave the ring to his eldest daughter Silmariën, who was not allowed to succeed him on the throne. She in turn gave the ring to her son Valandil, first Lord of Andúnië. It was handed down to succeeding Lords of Andúnië to the last one, Elendil.
Ad blocker interference detected!
Wikia is a free-to-use site that makes money from advertising. We have a modified experience for viewers using ad blockers

Wikia is not accessible if you've made further modifications. Remove the custom ad blocker rule(s) and the page will load as expected.